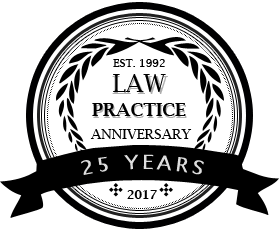 1222 Glenback Avenue
Baltimore, Maryland 21208

---
Tel: (410) 486-0900
Fax: (410) 486-0901

---

Admitted to Practice: Maryland, District of Columbia, Federal, and U.S. Supreme Court.

BV® Distinguished™ Peer Review Rated by Martindale-Hubbell






---
A general boutique law practice located in the Baltimore-metropolitan area of Maryland with a national and international clientelle. The practice features special concentrations in Entertainment Law & Intellectual Property, Corporate and Business Law, Maryland Medical Marijuana Law & Business, in addition to other areas of law. Since 1993, the practice emphasizes technology and electronic delivery of its resources, and prides itself in its

personal attention

to all matters.

Corporate and business matters handled by the law practice includes corporate formation and corporate transactions; asset sales; purchases and sales of businesses; franchise acquisitions; contract review, negotiation and drafting; and all other related business transactions. Ms. Davison has represented both small "mom-and-pop" businesses as well as multi-million dollar transactions and operations.
FREE CONSULTATIONS, AND NO HOURLY FEES ON MOST MATTERS
Baltimore Beltway 695-Exit 20, located just off Reisterstown Road
Driving

Get Directions :: Bus

Get Directions
(Use Reisterstown & Church N/B #59 or #53; and Old Court Metro)
---
I
nternational matters are handled by

Ms. Davison, who is bilingual in French and English

, in association with attorneys in both Brussels, Belgium and Luxembourg:
Ms. Davison was part of the legal team that worked on the world-renown case against the Swiss Banks and others for recovery of Holocaust-era assets. However please be advised that this website no longer contains materials and documents related to those cases as those matters have concluded.


Information in these pages should not be construed as legal advice and does not in any way constitute an engagement of the Law Firm. The information found on these web pages may not apply to your particular circumstances or matter. If you require particular advice on any given legal issue, you should contact a lawyer directly.
©
1995-, . All Rights Reserved.
Lawgal

™

is the exclusive property of Diane Leigh Davison.